Review the 2013 Cruze from Chevrolet Dealer in Albuquerque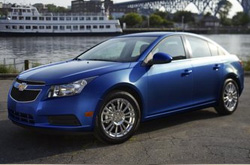 You can find a complete 2013 Chevrolet Cruze review below the video. Where do we get these Cruze reviews? From leading writers in their industry. Make cognizant decisions when it comes to your next auto purchase, don't take guesses! Each paragraph is brimming with data and vehicle features in way that's easy to understand. We wish you the best of luck in your search for the perfect Chevrolet!
2013 Chevrolet Cruze Features Video
Bullet List of Cruze Specs & Features
When comparing the 2013 Chevrolet Cruze against the 2013 Hyundai Elantra, Ford Focus, Honda Civic and the Mazda3, and you'll find that the Cruze ranks above those autos in gobs aspects. View just a few of the reasons below.
2013 Chevrolet Cruze 0-60 MPH in 9.1 seconds
2013 Chevrolet Cruze MPG: 24 city / 36 highway
2013 Chevrolet Cruze Body Style(s): sedan
2013 Chevrolet Cruze Seats: 5 passengers
2013 Chevrolet Cruze MSRP: $17,130
2013 Chevrolet Cruze Colors: Autumn Metallic, Atlantis Blue, Summit White, etc...
2013 Chevrolet Cruze Cargo Space: 15.4 cubic feet
2013 Chevrolet Cruze Features, Accessories & Trim Levels
Albuquerque Chevrolet Cruze Owner Warranty Info & Safety
Learn About Our Chevrolet Auto Repair Center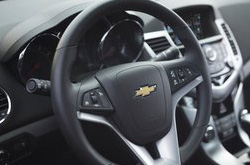 No mom and pop car repair sites in Albuquerque, New Mexico offer Reliable Chevrolet's spectacular combination of certified Chevrolet Cruze service techs, 12-month long warranties on all services and Chevrolet OEM parts. To keep your Chevrolet in tiptop condition, put it in the hands of Reliable Chevrolet's auto repair specialists. Just a small part of the services our Chevrolet repair men do includes fuel filter replacement, shock and strut repair and easy conventional filter and oil changes. For budget, tried-and-true Chevrolet car repair in Albuquerque, the prime place you should take your Cruze is Reliable Chevrolet. The next time you make a trip to our service department, take a coupon! Push forward - click the link under this text for specials.